Survey Questionnaire
Objective of the study
In the automotive industry, through the greater use of embedded sensors and electronics, the quantity of in-vehicle data available is increasing and better wireless connectivity is making it easier to share these data and to provide personalized services in the vehicle. This is changing the way current services are provided and opening opportunities for new services such as mobility as a service, which will lead to many parties, both current and new, having a legitimate interest in accessing in-vehicle data.
The European Parliament have called upon the Commission to make a legislative proposal to ensure fair access to in-vehicle data and resources, thus providing a route to implement legislation, if found necessary. To support this work, the Commission have awarded TRL a project to develop options for possible legal framework, an outline plan of which is shown below.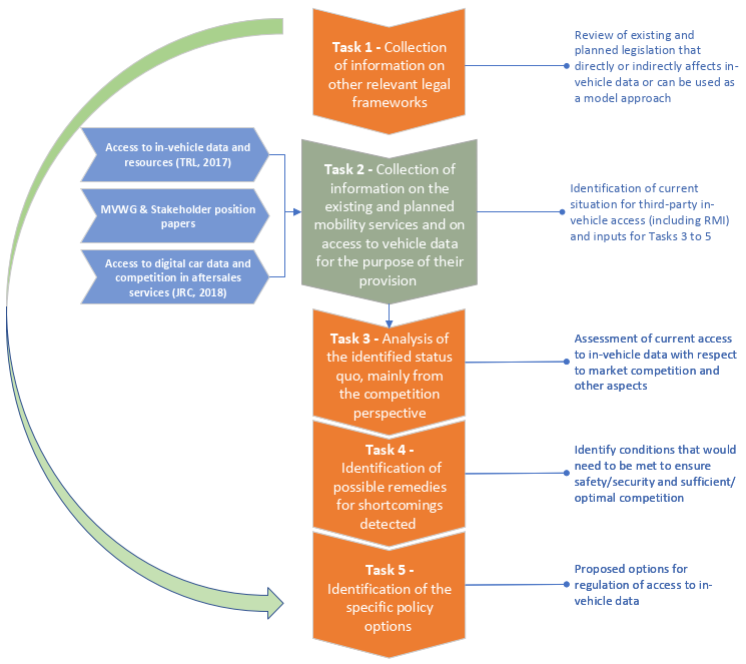 A critical part of this project is stakeholder consultation to collect information on the current situation for third party in-vehicle data access including RMI and mobility services, both existing and planned. The project has a very tight timeline which only allows a short window for the stakeholder consultation.
Industry consultation
To support this project, on behalf of the Commission, TRL and fka request that your company participate in a stakeholder consultation which involves:
Completion of a web-based technical questionnaire
Based on analysis of completed questionnaire, possible follow-up questions by email or telephone as appropriate.
The summarised results will inform recommendation for regulatory options to fulfil the study objectives.
By participating in this study, the participants will potentially benefit from contributing, along with other industry members, to the future EU-wide legislative strategy for access to vehicle generated data as well as to updating the current regulatory technical requirements for RMI.
The Survey will be published during the week staring 16th November and will remain open for 2 weeks from the date of publishing. If you have any questions regarding the project or the questionnaire, please write to IVD@trl.co.uk.
General information for the participants
This online questionnaire is created by the Transport Research Laboratory Ltd (TRL) and fka GmbH (fka) as part of an independent investigation for the European Commission (EC).
The questionnaire is made up of multiple sections, addressing the following topics:
Services that require access to vehicle data (current and planned services)
Manner and conditions of current service provision
Business models of current services, and Market and competition situation
Policy options
Access to vehicle data for repair and maintenance of electric vehicles
Current range of in-vehicle data accessed, and Manner of access to in-vehicle data
Current range of in-vehicle resources accessed; and Manner of access to in-vehicle resources
Vehicle architectures
Safety, security and data protection aspects
Future competition, competitiveness and customer welfare
Quantification of impacts
You can interrupt the questionnaire at any time by clicking the 'Save and Continue Later' button at the bottom of each page. This will automatically create a link to it, which you will receive via e-mail (please check your spam folder, if you do not see it).
Privacy Notice (Data Subject Rights)
The European Commission is the Data Controller for this activity for the purposes of the Data Protection Act 2018 and the General Data Protection Regulation (Regulation (EU) 2016/679). TRL Ltd and fka GmbH are Data Processors.
We are committed to protecting your information. We have created this Notice to help answer questions you may have about how we protect and use the information we gather during the consultation process.

1. Purpose
The purpose of the consultation is described above.

2. Legal Basis for using your Information
The lawful basis for us collecting and using your questionnaire and interview responses for this research is your consent, which we obtain when we invite you to complete an online questionnaire.

3. What will happen if I choose to take part? What do I have to do?
You will be asked to complete an online questionnaire that is estimated to take between 40 and 90 minutes to complete (depending on the stakeholder group).
Please note that your contribution to this questionnaire will not be financially rewarded.

4. Information we collect
We will collect the following information during the survey:

Name
Job Title
Email address
The results will be summarised and anonymised (i.e. will be written in a way that does not allow association of responses with individual respondents).


5. How long we store data
Your personal data will be held for 24 months after the closure of the project (March 2021) for the purpose of data analysis, at which time all personal data shall be securely deleted or destroyed.


6. Data recipients
The data collected in this questionnaire will be accessed by limited members of TRL and fka on behalf of European Commission. All individual responses to the questionnaire will remain anonymous. The results will be shared in a combined and summarised form with the European Commission. The results might be published in summarised form as a report on the website of the European Commission or/and on the websites of TRL and fka.


7. Where we store personal data
We only collect non-identifiable data within this research on behalf of European Commission. Information from the online questionnaire will be downloaded for analysis and stored on a password protected computer at TRL. Some data may also be downloaded and stored on a password protected computer at fka.


8. How we keep information secure
TRL & fka have implemented administrative, technical, and physical security measures to help prevent unauthorised access to the data we hold.
TRL & fka restrict access to information to only those who need such access in order to operate, develop, improve, or deliver our programs, products, and services.


9. Access to your information (Data Subject Rights)
If you wish to exercise any of your legal rights, please contact our Compliance Team, by writing to the address at the top of this Notice or by emailing us at compliance@trl.co.uk.
We may require you to prove your identity with approved identification before fulfilling your request.


10. Changes to our Notice
Any changes we make to our Notice in the future will be posted on the TRL website. Please check our website frequently to see any updates or changes to our Notice.


11. Contact
Questions, comments and requests regarding this Notice are welcomed and should be addressed to Compliance@trl.co.uk