People-centric design
Sustaining and developing the UK's future road network requires deep understanding of customer satisfaction, safety and performance. The driving simulator is a cost-effective testing facility designed to help customers achieve their aims of maximising network performance and customer satisfaction in a safe and controlled environment.
Pre-build, test and design of mission-critical infrastructure
Reduce risk by identifying design performance issues
Engage stakeholders during the planning process
Human factors research
Drivers have to contend with multiple factors inside and outside of the vehicle that can impact their driving performance, and the safety of themselves and other road users. The driving simulator enables innovation-led technology companies, research institutions, marketing agencies and other organisations to investigate driver distraction and impairment factors.
Examine the attitudes and behaviour of drivers in a safe and controlled environment
Test and measure drivers' performance
Inform legislation, transport policy and technology advancements
Understand how to encourage behavioural change
Vehicle technology
The growth of connected and automated systems has a growing role in vehicle operations, and the driving simulator enables solutions to be validated in highly realistic scenarios.
Reduce risk for vehicle manufacturers and technology providers
Test and develop innovative concepts and technology components
Improve vehicle performance for a safe, cleaner future
Minimise driver distraction
The virtual world meets the real world
DigiCar
A Peugeot 3008 straight off the forecourt with fully operational controls. SUVs are a popular car with consumers, making it quick and easy for drivers to familiarise themselves with the vehicle.
High fidelity test environment that accurately reflects real-world driving conditions.
300˚ projection of driving scene creates fully immersive experience.
Access to over 300 highly qualified experts within TRL for expertise in new technologies, traffic management, driver behaviour, safety regulations, road infrastructure and air quality.
Unobtrusive motion platform provides a natural experience and has a lower than average participant dropout rate.
Eye tracking and physiological monitoring gives an in-depth understanding of driver reaction
Driver interaction with the vehicle controls is captured directly from the vehicle CAN BUS at a high frequency.
Comprehensive volunteer database allows you to call in the ideal sample from over 2,000 drivers.
MiniDigiSim
Our portable driving simulator has interactive controls, frontal screens and wing mirror visuals with 180˚ projection of the driving scene. It is also fully compatible with the main driving simulator.
Reduce risk for fleet managers
Train and monitor drivers' performance
Investigate drivers' behaviour and attitudes
Ready to go in under 30 minutes
DigiTruck
Our portable HGV driving simulator enables you to:
Train and assess the performance of HGV drivers in a risk-free environment
Monitor drivers' response to in-vehicle technology
Provide safety training for emergency situations in a controls, safe environment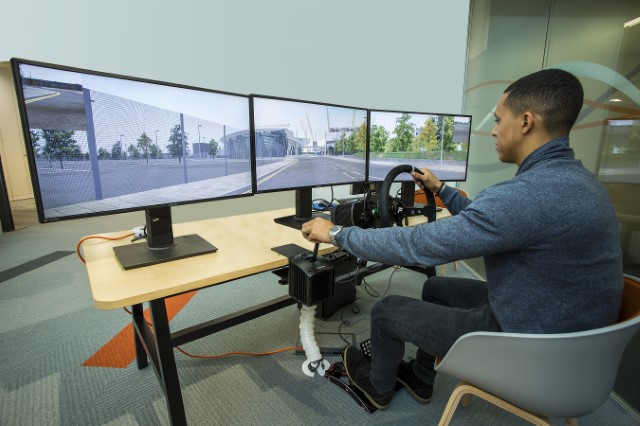 Evidenced-based research
Here are some of the studies that the DigiSim has been involved in over the last 50 years:
Infrastructure planning
Road and junction design
Smart motorway design
Speed variability
Roundabouts
Cycle lanes
Safe site access
Tunnel layouts
Zebra crossings
Driver behaviour
Autonomous vehicles
HGV platoons
Billboard advertising
Traffic flow
Road signage
Driver performance
Infotainment and navigation systems
Wearable technology and mobile phones
Vehicle performance perception
Driver reaction times
Hazard perception test
Haulage driver training
Impairment research
Alcohol and medicinal drugs
Fatigue
Energy drinks
Visibility awareness of older drivers
Younger drivers
For more information about our simulators, please email digisim@trl.co.uk
If you are interested in participating in trials using our simulators, please register here.